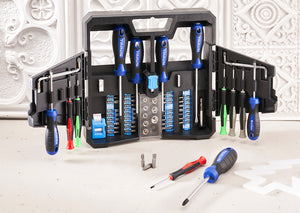 Faithfull Fold Out Screwdriver & Bit Set, 63 Piece
This impressive 63 piece set from Faithfull contains 7 x soft-grip screwdrivers, 6 x precision screwdrivers and 36 x CrV bits. The set also contains a bit driver as well as a selection of accessories, including adaptors and bit holders. This truly versatile set covers a range of applications around the home or work site and is a great choice for both a DIY enthusiast or a professional user.
Supplied in a heavy-duty storage case with a gate opening for easy selection and access to each product.
Contains:
2 x Slotted Screwdrivers: 6 x 125mm and 3 x 75mm
3 x Phillips Screwdrivers: PH0 x 75mm, PH1 x 75mm and PH2 x 100mm
2 x Pozidriv Screwdrivers: PZ1 x 75mm and PZ2 x 100mm
6 x Precision Screwdrivers: Slotted 2.5 x 50mm, 3 x 50mm, PH00 x 50mm, PH000 x 50mm, TX8 x 50mm and TX9 x 50mm
2 x Offset: PH2 x 6mm and PH1 x 5mm
1 x Bit Driver
7 x 25mm Phillips Bits: PH0, PH1(x2), PH2(x2) and PH3(x2)
9 x 25mm Pozidriv Bits: PZ0, PZ1(x3), PZ2(x3) and PZ3(x2)
7 x 25mm Star Bits: TX10, TX15, TX20, TX25, TX27, TX30 and TX40
4 x 25mm Hex Bits: H3, H4, H5 and H6
4 x 25mm Hex Security Bits: S0, S1, S2 and S3
4 x 25mm Slotted 3, 4, 5 and 6mm
1 x 1/4in Socket Adaptor
9 x 1/4in Hex Sockets: 4, 5, 6, 7, 8, 9, 10, 12 and 13mm
1 x Magnetic Holder
1 x Magnetiser/Demagnetiser
---
We Also Recommend